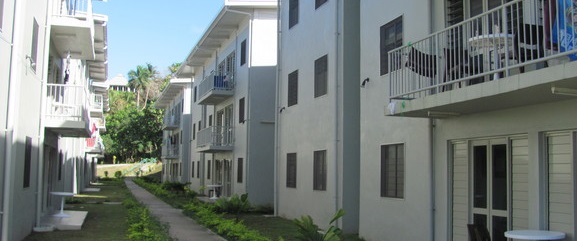 On Campus & Hostel Accommodation
The High Commission will be responsible to reserve on campus halls or hostel accommodation for new students. On-going students must apply in the previous year to be considered for on-campus or hostel accommodation. The TSCU will provide a full list of new students so that accommodation can be organized.
On-going students who wish to live on campus are required to apply for their on-campus before the end of each academic year. Students can do this on-line.
Off campus accommodation
Pressures with on-campus accommodation mean that a greater number of students are living off campus.
Around the Suva area you can find affordable housing for rent. It is expensive for students to flat out alone so students normally group to rent a facility. If you chose to rent out, we encourage you to take note of the following instructions:
Check that the rental facility is appropriately fitted with study equipment, ie desk, chairs, study lamp.
In house cupboards for you to store your cloths and other belongings safely
Check that the house is properly secured ie; fence, grill doors, lockable doors, mosquito screens.
Check that there are no leaking roofs.
If no inventory exists, do one up to list all the items you have on entering the premises
Ensure to have a signed contract between yourself and your landlord and do read through the contract and understand its contents. Ask other students or the High Commission if you are not familiar about the terms and conditions of the contract.
Discuss any matters relating to damages with your landlord as soon as damages are identified.
Rental Responsibilities
It is your responsibility to make sure that you pay for all accommodation charges including monthly rents, utilities such as water and electricity bills.
You will be billed directly by your landlord or the halls of residence if you live on campus.
Rental Grievances
There is always a tendency that disagreements can surface between you and your landlord. Should disagreements arise, try to solve this in an amicable manner with your landlord through dialogue.
The High Commission is willing to take complaints however it is your responsibility as a tenant and your landlord to ensure your grievances are addressed satisfactorily. In the event that any matter cannot be concluded satisfactorily, the High Commission can assist you further your case with the following agencies dealing with rental facilities. They are:
Fiji Consumer Commission
Fiji Consumer Counsel
Depending on which agency your case falls under, the High Commission is able to assist you further your claims.